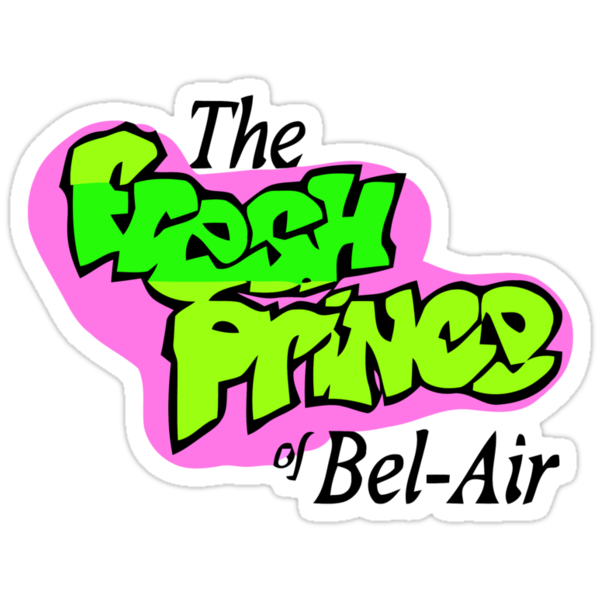 Iiiiiiiiiiiiiiiiin West Philadelphia born and raised.... (I triple dog dare you to finish it!)
So if you haven't already guessed, this blog post is dedicated to the funky fresh fashions that were made popular by Little Willie From Philly on his hit TV show, the fresh prince of bel-air! Since this blog is so new, I think I might have to make this statement solid and in all caps, lol! So here it goes : I AM TOTALLY OBSESSED WITH 90'S NOSTALGIA & NERDY BLIPSTERS. This is due to the fact that 1) I am a product of the 90s and 2) I love what I am, lol ;-) This will be 100% evident in my future posts.

So let's dissect this look one piece at a time :-)
Oh sweet baby Jesus!! Will always had the stupid hats! They were crazy!!
They were only like $35 (which isn't my first choice, but y'know I MUST have this hat, LOL) but we can't get em >:-(. So instead, how about a snapback with the fre$hest design you can find, cuz thats what Will was really about because he was just expressing himself! I've seen the CUTEST hats at http://www.zumiez.com/
and in the store, so check there :-P
Ahhhh, I LOVE bamboo earrings, I buy all of mine from Icing by Claire's & they're only $10!! But every time I've been in there, they were 50% off!!!!!
Will wore some crazy day-glo clothing, not like De La Soul status, but y'know funky fresh!
for this, I'd probably wear a phat denim jacket(since its summer, a denim vest would be more practical) and and a t-shirt with the craziest design you can find!
You can find these bad boys at Macy's, Pac Sun, Old Navy, Gap, OR you could just be the crafty individual you are and cut the sleeves off of a denim jacket (one that you dont mind cutting of course).
A tee shirt like this is awesome!! I have one with a blonde girl on it that I got from Zumiez for $20. This shirt is perfect because it's neon, the little girl is fresh to death & its like a throwback to Yo! MTV Raps!! (If you aren't aware of it, please go on google & type that into the search bar, lol). http://www.zumiez.com/
FOR BOTTOMS- Something slim
So for this, we're gonna want a very slim look on the bottom! The best choice would be a pair of yoga leggings (just go to PINK, they're only $34, lol) or some skinny jeans (I SUGGEST TARGET!).
FINALLY- DEM KICKS!!!!
On the fresh prince, Will always had the freshest jordans, but since we are super cheap (or just money conscious, which is 100% okay!) that's not an options!! So how about some Vans? They are my FAVE type of sneaker & they're only $40 :-) http://www.vans.com/ if a pair of vans is not an option, target has a great dupe! http://www.target.com/
Just add anything else that you think will make you the dopest, phattest, most FRESH PRINCESS in your area!
STAY FR3$H!
-$ky